The challenge rivals 2 meet cast
PHOTOS - Meet The Cast of MTV's Real World/Road Rules Challenge: The Rivals! - Reality Tea
The Challenge is an American reality television show, which was spun off from the reality "balamut.info - On-Air - Battle of the Sexes 2 - Meet the Cast: Girls". MTV. Archived from "Meet the Cast of MTV's The Challenge: Rivals II". Us Weekly. 'The Challenge: Rivals III' to Premiere in May: Meet the Cast Season 2); Cory Wharton & Ashley Mitchell (who didn't get along during "Real. Cast[edit]. Host: T. J. Camila Nakagawa, Spring Break Challenge, Third Place. Jemmye Anastasia Miller, RW: Portland, Episode 2.
You come off of it, and your body has withdrawals. I got back and was just cold and in a daze and still had my attitude from the house. She loves you no matter what. You were on this season with two other gay guys, Derek and Preston. Do you relate to them?
The Challenge: Rivals II - Wikipedia
You can always appreciate that in a person. He is a really nice guy. In the house, Preston can be kind of like a mean girl in high school. He runs his mouth, talks behind the scenes. Did you think he was particularly back-bitey this season? It jostled those people. It got stuck in their heads. Jemmye, Knight, Preston — those people, whether or not they want to admit it, they were intimidated by that.
Do I think Preston said personal things about me? Do I think Preston cast shade on me? Do I really care?
No, he looks like a Q-tip. I guess I get what I asked for. Your relationship with Zach is so crazy. I want to see all the ups and downs charted on graph paper. Where does your relationship stand now? I wish him well in life.
In the time we were friends — and I do believe we were genuine friends — I knew a lot about him, and he know a lot about me. I know a lot about his family and things he was going through with his family prior to going into Rivals II.
I absolutely loved him as a person. I had a great time when we were on Seasons, and the year after the fact too. I was giving him genuine friendship, and I was happy to be his friend. There were people saying horrible things about me, like, homophobic things, and he kind of pledged allegiance to them.
There is zero outlet for being a gay man in these houses. I put it on ice. Then I come home and have as much sex as possible. I live in West Hollywood, the gayest place on Earth.
"Real World" Star Frank Sweeney On "Rivals II" And Explaining His Gayness To Idiots | NewNowNext
Do you have an all-time Real World crush? Finally, what more can we expect of you this season on Rivals II? The argument got physical when Derek began pushing up against Robb which resulted in Derek getting shoved by Marie, which led to fellow castmate Sam McGinn to fall back and smash her head on a ceramic planter.
The two had a seemingly one-sided beef in The Islandwhere Tyrie made several comments about Dunbar not being worthy of having a key after being given it by Abram Boise. Despite the fact that many cast members felt this way, Tyrie was the only one who came out and said this outright. Tyrie also became annoyed by Dunbar's behavior over food distribution on The Island, where Dunbar was serving himself larger portion sizes than the girls based on the fact that he is a bigger male. Even though Tyrie was just as hungry, he stated that Dunbar's behavior was annoying, and that he would liked to have "whooped Dunbar's ass" on the street.
While the two had never been on a Challenge together or even met, they exchanged several heated tweets to each other after Johnny ranted about not getting cast in Battle of the Seasons as well as taking exception to a "JV Squad" takeover, to which Frank responded that the Challenges "don't provide a K.
Initially the two began their time in The Real World: Portland as friends, but Jordan's drunken antics caused Marlon to become frustrated with him. Despite Marlon not being Jordan's biggest fan, the two never fought on their own. However, the two got into an argument one morning after Jordan made a racist gesture towards African-American castmate Nia Moore. During their original season on The Real World: New OrleansKnight made some homophobic remarks about Preston, which greatly offended him.
Shortly after moving into the house, Knight and ex-girlfriend Jemmye Carroll began talking about getting Preston and McKenzie Coburn off of their team, feeling that the pair was holding them back.
The two ended up grappling the other during the original Rivals that led to Leroy's teammate Adam Royer being disqualified for punching Ty in the face. Leroy eventually got a new partner, his friend Michael Ross.
The alliance only spoke to Marie and Robb when they needed to speak with Team St.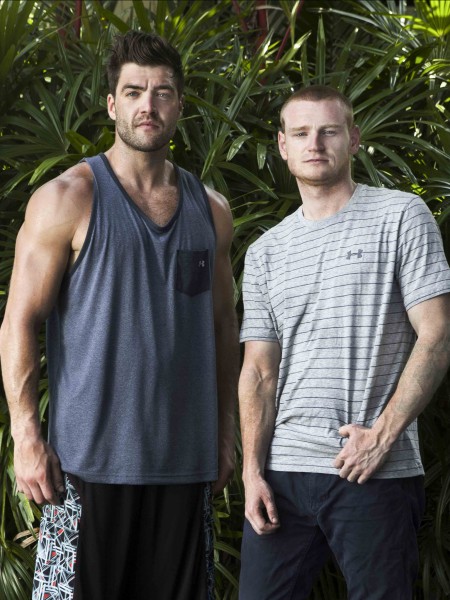 Trey didn't like the fact that Marie was the "decision maker" for their team, and that he and Laura Waller were seen as the outcasts.
The one time the entire Team St. Thomas spoke with Team San Diego, Zach became frustrated with Trey while discussing why they shouldn't put them in the elimination. After Trey stated that he was playing the game his way, Zach got up and walked away because he felt like Trey was full of it. Tension between the two began on their season of The Real World: They first started out friendly with each other, with both getting jobs at the same frozen yogurt stand to spend time together, but then eventually began to become annoyed with each other after Jessica felt excluded by Anastasia and their fellow castmate Averey Tressler, as well as Anastasia becoming annoyed with what she felt was Jessica's need to constantly draw attention to herself.
However, during a physical altercation between roommates Averey Tressler, Johnny Reilly and Nia Moore, Anastasia and Jessica squashed their differences. Their beef stems from their time on The Duel.
During the second to last challenge, Around the Block, Aneesa mentioned to Diem that she wouldn't call her into the Duel under the false assumption that Diem would win that day's safety.
After Jodi Weatherton won the challenge, Aneesa was left to decide between Diem, and her best friend Svetlana Shusterman. Aneesa chose Diem and the pair would face off in the I Can Duel, the one Duel Diem did not want because she didn't feel it was fair to both competitors.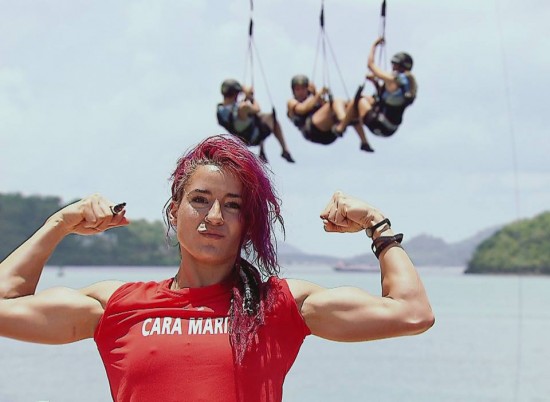 After Diem got careless with her betting, Aneesa made her attempt to lift coffee bags, and after she couldn't budge it, Diem was eliminated in tears. Following the loss, Aneesa went over to Diem to give her a hug goodbye, and Diem told her that she wasn't in the mood for that because she was the one who called her into the Duel. Despite no longer being Knight's girlfriend, Jemmye quickly came to his aid and excoriated Camila on the bus to the point where the two almost got physical with one another.
The two were walked into the house separately by other cast members, while still fuming about the incident on the bus. Las VegasCooke filled his spot in the cast. Naomi was the main cast member trying to band everyone against Cooke, leading to the latter to becoming an outcast for the majority of her stay in Las Vegas.
Eventually Cooke had set her sights on Naomi's on-off bedmate Leroy Garrett, leading to an argument where Naomi got in Cooke's face. Cara Maria replaces Naomi in episode 2. Although they have never appeared on a season togeher, Cooke mentioned Cara Maria tweeting "not-so-nice" things to Cooke.
The two faced off against each other in the physical Pole Me Over Gulag on Cutthroatwhere Emily overwhelmed and defeated Paula, and prevented her from making it to the finale which would later be won by Paula's Red Team. Following the revelation that they would be going into the Dome, Emily claimed that Paula was only sending her in because she was afraid. To that, Paula joked in a confessional, "She is correct.
Yes ma'am, Have you seen you? Later, Emily and Camila mocked Paula and Ty with an unintentionally racist practical joke, in which Emily appeared in blackface by smearing Nutella on her face, and Camila mocked Paula.
The two got into an explosive argument during the original Rivals challenge, after their respective partners, Jonna Mannion and Camila Nakagawa, got into an argument. Camila was offended by Jonna trash-talking about her, and Jonna was offended by the fact that she did not know the difference between her and Jasmine.
Both Jasmine and Theresa came to their partners' defense and eventually got into each other's faces. Jasmine had to be pulled from the room by Sarah Rice, with Sarah telling her that she did not want to go out like Adam [Royer] did.
Jasmine had screamed that she was "going to fuck [Theresa] up," before punching a nearby mirror and shattering it. Ironically, the next morning Jasmine made a comment to Jonna that if they ever made a Rivals II, she knew who her partner would be Theresa.
During the Battle of the Seasons reunion, Nany questioned Zach for his hostile behavior during the season, including assisting Knight in throwing Nany's clothes into the pool, as well as Zach's mean tweets post-season.
Zach stated they occurred at retaliation partly because he felt that Nany bullied people, including, Zach's then-girlfriend, Jonna, during the Challenge. Jonna then stated that she felt Nany was not very nice to her during the Challenge. Tension between the two began on Battle of the Seasons, when Trishelle became suspicious of Sarah's intentions when Sarah was flirting with Trishelle's teammate Alton Williams.
Trishelle had a conversation with Sarah's teammate Devyn Simone, telling her that Sarah is the only reason her team wished to send Brooklyn into the Arena. This would later lead to a confrontation between Sarah and Trishelle, in which Trishelle told Sarah that prior to returning to the Challenges multiple cast members informed her of how manipulative Sarah can be and she said that she couldn't trust Sarah at all.
Much like Catch and Release from the original Rivalsone partner stands on a platform suspended 30 feet above the water, while the other dangles over the water. Lavin blows the horn, the player on the platform must run and jump into the arms of the dangling partner, and hold onto them for 15 seconds.
Those that fall are disqualified. This is performed in heats, and in each successive heat, the platform is pulled back by one foot. The last male and female teams to remain win the challenge, while the first male team to have one partner fall in the water goes straight to the Jungle.
This game is played on an obstacle course along the beach, with two sections. In the first section, each team must saw off a log, with the saw placed in between the legs of each partner, and use a "thrusting" motion in order to saw the log. The first team to saw off their designated log will earn a five-second headstart for the next section, while each successive team earns a one-second headstart.
'The Challenge: Rivals III' to Premiere in May: Meet the Cast & Watch the First Trailer!
The second section is "Ball Gag," in which partners are attached at their torsos, and with one player upside down, each team must advance through a pile of tires and under a log, then one player has to retrieve a red ball perched atop a wooden pole with their mouths, then drop the ball on the sand, and have their partner deposit the ball into a trap door.
The first teams to deposit the ball into their designated trap door win the challenge, while the last-place female team goes straight to the Jungle. Each team has to climb onto a rope ladder to a platform that is suspended 30 feet above water, then advance on a pair of foot ropes over the water to a deck, and ring a bell.
If a player falls into the water, that player can swim back to the starting line, however, a team is disqualified if they don't complete the challenge within a minute time limit. The teams that make it to the deck and ring the bell in the fastest time wins, while the last-place male team goes straight to the Jungle. Each team has to advance through a maze in the sand consisting of numerous bamboo poles, with each partner tied together by their wrists to a foot bamboo pole.
A team is disqualified if they do not make it to the other side of the course within a minute time limit. The teams that make it to the end of the obstacle course in the fastest time wins, while the last-place female team goes straight to the Jungle.